| | | | |
| --- | --- | --- | --- |
| Stakeholder | Life safety | Property loss | Functional loss |
| | | | |
| Solution/ Expertise | Repair time | Costs of strengthen |   |
| | | |   |
Typical causes of damages
Pipes are particularly vulnerable to damage at joints, bends, penetrations through walls or structural members, and connections to equipment.
Unbraced piping can sway and impact adjacent items.
Piping may be damaged as a result of differential movement between points of attachment.
Fluids may leak from damaged joints or broken pipe; property losses and business outages are often attributed to fluid leaks from piping.
Recommended methods
All piping systems must be seismically restrained, unless:
- the pipes have a diameter less than 50 mm;
- the pipework is suspended by individual hangers less than 150 mm long from the top of the pipe to the supporting structure.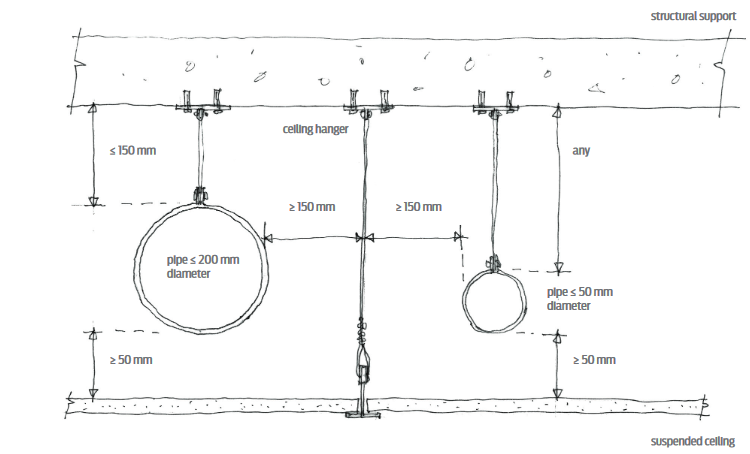 Figure: Where pipe restraints are not required(NZS 4219:2009)
All piping systems with pipes greater than 200 mm in diameter require specifically designed restraints.
Longitudinal pipe bracing requires the use of a pipe clamp, riser clamp, welded lug or device that provides positive attachment to the pipe and will not slip along the length of the pipe. Longitudinal pipe supports should not rely on friction connections such as U-bolts as these do not provide reliable longitudinal restraint during an earthquake and are likely to slip. Some vendors have items with names such as "seismic pipe clamp" or "longitudinal restraint device" that are intended for use with longitudinal restraints.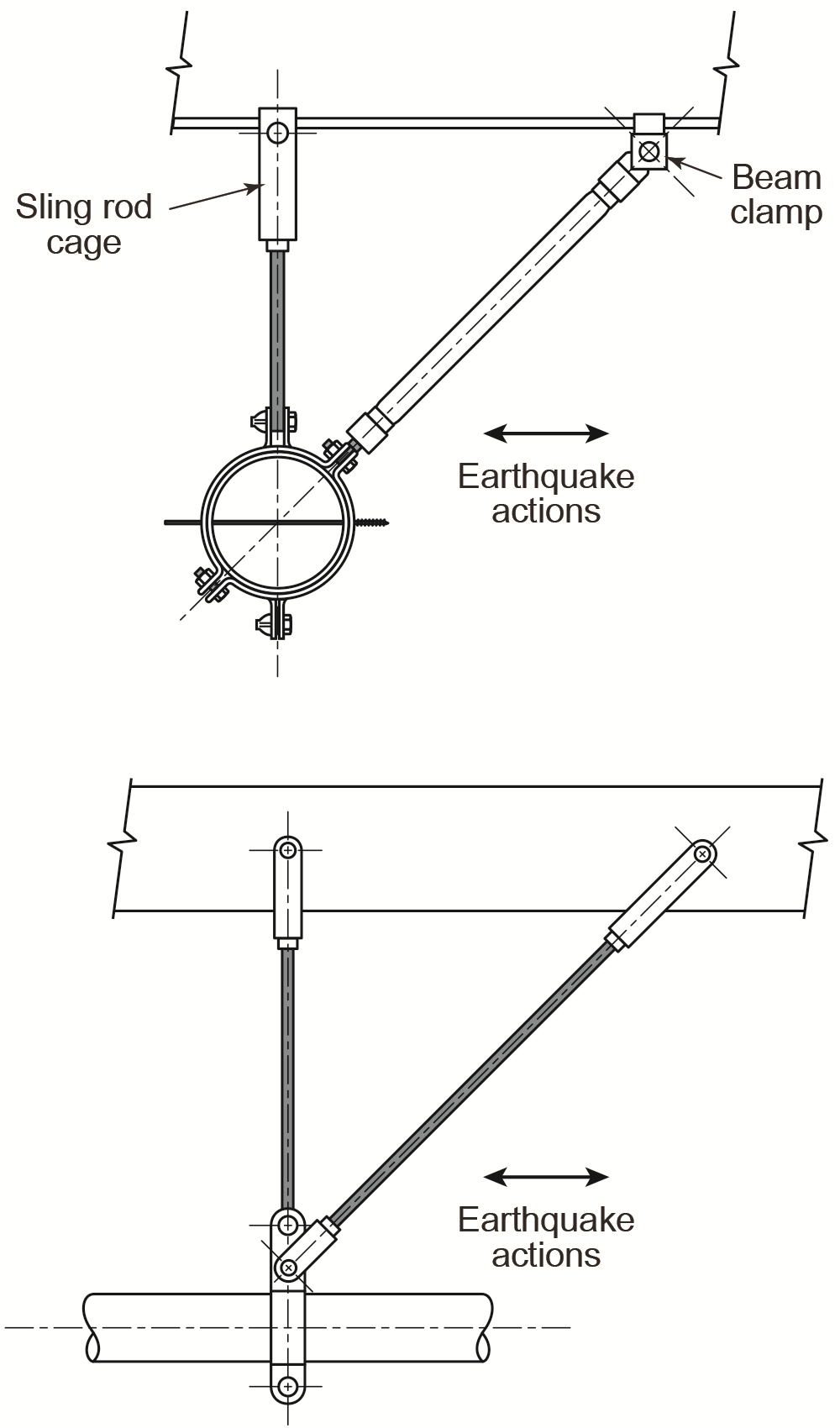 http://www.branz.co.nz/cms_show_download.php?id=fb261c86c81e2ee75664b795c6a8d8217f60d1fb
This series of guidebooks, FEMA 412, Installing Seismic Restraints for Mechanical Equipment (FEMA, 2002); FEMA 413, Installing Seismic Restraints for Electrical Equipment (FEMA, 2004c); and FEMA 414, Installing Seismic Restraints for Duct and Pipe (FEMA, 2004d) show installers how to attach mechanical, electrical, and plumbing (MEP) components in a building to minimize potential earthquake damage.